Garage Equipment
A new collaboration between Merityre and Corghi, one of the world's leading manufacturers of tyre equipment, was established during 2006.
The ever changing design of car tyres and in particular the introduction of high performance, low profile and run flat tyres is leading to new demands for the standard tyre changer. In many cases the traditional tyre changer will be unable to do the work necessary to change these tyres.
Merityre have recognised this already in their centres in the UK, and are introducing the new Corghi Artiglio 50 in order to maintain their service levels. At the same time we have arranged with Corghi to offer a completely new approach in our export markets to ensure that you have access to the equipment you will need.
Merityre can provide practical advice on equipment during our regular visits. We are offering extremely competitive export prices for new Corghi machines, backed up with the supply of spare parts, service and training issues. For more information on Corghi machines, click here
We now also supply Sice garage equipment and are able to export garage consumables. If you are struggling with an old tyre changer or wheel balancer, please contact us for the BEST equipment that money can buy.
In addition to equipment the modern tyreshop needs access to a whole host of accessories and consumable products - anything from a tubeless valve, balance weight, impact socket, tyre lever or impact wrench, to airline fittings, repair patches, compressors, hydraulic jacks and so on.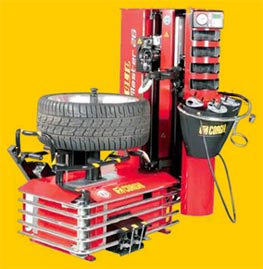 Once again Merityre has practical, hands on, experience of most of these products, and can supply quickly to ensure your shop continues to run effectively. Often small items, and spare parts for equipment can be sent by air or courier to reduce any downtime that you are experiencing.