EfficientGrip
Saves fuel, saves money, better for the environment
Use less fuel, get more performance.
Using the latest developments in manufacturing techniques and advanced materials, our Goodyear engineers have developed a FuelSaving technology to reduce fuel consumption without reducing performance. EfficientGrip tyre's lightweight structure is fabricated from innovative materials including a new generation of tread compound that helps reduce the amount of energy needed to propel the tyres. In short this tyre is one of the environment's best friends.
But don't just take our word for it.
Independent performance tests by German testing and certification company TUV SUD Automotive, have found that the Goodyear EfficientGrip performs exceptionally:
1.9% more fuel efficiency*
2% shorter braking distance on wet and dry*t
8% more mileage (driven axle)*
49% more mileage (non-driven axle)*
*Compared to the average performance of 4 leading competitors. Tested by TUV SUD Automotive in March 2009. Tyre size 205/55R16. Test car: VW Golf. Report # 76236753
Features
Benefits
Unique FuelSaving Technology:

A lightweight tyre structure
An optimised tyre shape
Advanced compound materials and manufacturing technology
A patented CoolCushion Layer

Improved fuel efficiency
Reduced CO2 emission and environmental impact
Silica tread compound using latest generation of polymers
High mileage Environmental friendly Superior wet braking performances
Multi functional blading
Better braking performance on wet surfaces
Variable tread block angle and arrangement
Quiet ride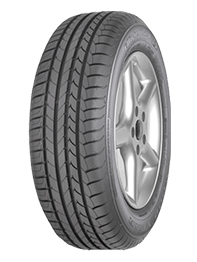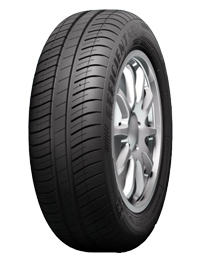 EfficientGrip Compact
The fuel saving tyre for long life and confident handling in both wet and dry.
Excellent wet performance
Designed with a new tread design, the EfficientGrip Compact offers shorter braking distances on both wet and dry surfaces. Featuring dual wide grooves, extra-large sipes and multiple biting edges, this tyre can cut through surface water for improved braking in the wet. Furthermore, it offers greater resistance to aquaplaning thanks to its rounder, cavity shape which prevents the accumulation of water.
Improved Fuel Efficiency
The EfficientGrip Compact also offers improved fuel efficiency and mileage making it an economical and environmentally friendly tyre. This is because this tyre is constructed specifically to reduce overall tyre weight by 5% for improved rolling resistance. In turn, this results in better fuel efficiency and even tyre wear, helping to prolong the life of your tyres.
| | |
| --- | --- |
| Dual wide groves | Shorter braking distances |
| Multiple biting edges | Improved braking in wet |
| Stiffer tread design | Even tyre wear |
| Rounder cavity shape | Resistance to aquaplanning |
EfficientGrip Performance
Improved grip and shorter braking distances for exceptional summer driving.
A rated wet grip
Awarded an A grade for wet grip performance by the EU Tyre Label, the EfficientGrip Performance is one of the best summer tyres around when it comes to wet weather. Constructed using Goodyear's innovative WearControl Technology, this tyre offers improved wet braking and grip whilst maintaining low rolling resistance for the life of the tyre.
Don't just take our word for it
The EfficientGrip Performance has won numerous awards including the Auto Express Tyre Test in 2014 and the Which? Best Buy Tyre 2014. Auto Bild, Germany's leading automotive publication, labelled this tyre 'exemplary' stating that it is 'a well-balanced premium tyre with fuel efficiency. Best handling qualities on wet surfaces. Short braking distances on wet and dry, good steering precision.'
| | |
| --- | --- |
| ActiveBraking Technology | Shorter braking distances |
| WearControl Technology | Improved braking in wet |
| New base compound | Lower fuel consumption |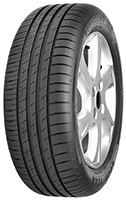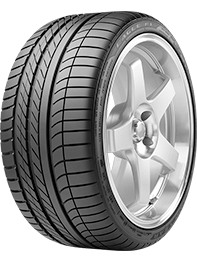 Eagle F1 Asymmetric
The High performance tyre for high performance cars.
The asymmetric Eagle F1 has been developed specifically with high performance, luxury cars in mind. These cars demand a tyre that's responsive to their predictive safety systems and keeps their raw power under control. Roll on the Goodyear Eagle F1, a tyre that balances performance and control in equal measure.
More Grip, more of the time
The Eagle F1 combines our revolutionary Active Cornergrip Technology with compounds derived from our racing pedigree. The result is a tyre that distributes pressure evenly when cornering at high speeds and that means you've got more tyre in contact with the road more o the time (versus the previously produced Eagle F1 GSD3).
Feaures
Benefits
Revolutionary asymmetric tread design and construction
Utilising all the latest Goodyear technology
Even pressure distribution and increased road contact (versus the Eagle F1 GSD2)
Enhanced cornering and grip
Inner tread zone compression
More tread in contact with the road
Enhanced wet handling
Helps reduce aquaplaning
Optimised pitching sequence
A quieter, smoother ride
Eagle F1 Asymmetric 2
The ultra-high-performance tyre that delivers shorter braking distances when it matters most
Expect high performing handling
The Eagle F1 Asymmetric 2 has been designed with a stiff carcass structure which increases steering precision even at high speeds. Alongside this innovative construction, this tyre features a high-surface silica compound which enhances grip, further improving handling on both wet and dry surfaces.
Shorter braking distances
TDeveloped with ActiveBraking technology, this tyre enables you to stop with confidence when split seconds count. This is because tyre contact with the road is increased as you push the brake. In internal Goodyear tests, the Eagle F1 Asymmetric 2 delivered three metres shorter braking on wet roads and two metres shorter on dry roads against leading competitors.
| | |
| --- | --- |
| ActiveBraking Technology | Shorter braking distances |
| Stiff carcass structure | Increased steering precision |
| Low weight construction | Great fuel efficiency |
| High surface silica compound | Increased contact with road |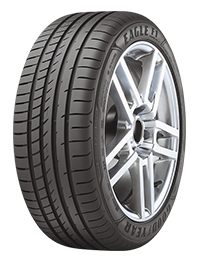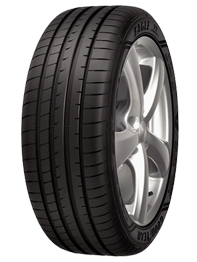 Eagle F1 Asymmetric 3
The performance tyre that puts you in control
Shorter braking distances
Designed using Active Braking Technology, the Goodyear Eagle F1 Asymmetric 3 offers shorter braking distances on both wet and dry surfaces. This is due to an increased contact patch which means more of the tyre maintains contact with the road, enhancing grip and resulting in more effective braking.
Enhanced steering precision
The Goodyear Eagle F1 Asymmetric 3 has been built utilising new Reinforced Construction Technology which enables the tyre to be both strong and lightweight. This combination results in enhanced handling properties allowing the driver to retain maximum control.
| | |
| --- | --- |
| ActiveBraking Technology | Shorter braking distances |
| New Grip Booster Compound | Enhanced gripping capabilities |
| New Reinforced Construction Technology | Precise steering performance |
DuraGrip
The stop-start tyre that never stops.
In the hectic whirl of urban driving you need a tyre that can withstand an infinite number of red lights, roadworks, crossings and hold ups. DuraGrip tyres combine technology used in our test-winning HydraGrip and Excellence tyres to cope with all the stops and starts you can throw at them.
On and on.
As well as giving you a technologically advanced tyre, DuraGrip also lasts for miles and miles. All with the reassurance that a premium brand like Goodyear brings. Drivers of small city cars can't fail to be impressed with this though little street fighter.
| | |
| --- | --- |
| Asymmetric tread pattern with closed outside design | Better dry handling and a quieter ride |
| Open inside design | Helps to reduce aquaplaning and improves performance in the wet |
| 3D-BIS technology | Better handling and more stability |
| Continuous ribs | For a quieter ride and better dry handling |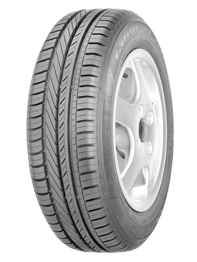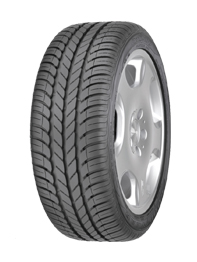 OptiGrip
Long lasting performance.
The tyre that keeps gripping.
The Goodyear OptipGrip tyre offers you excellent performance for longer. Its longevity comes thanks to SmartWear technology – as the tyre wears, hidden channels below the tread surface are revealed so new grooves come into contact with the driving surface. This in effect replaces the tread keeping the tyre's water evacuation extremely efficient and reduces the likelihood of aquaplaning.
Wet or dry.
Combined with its dual-layered compound for high levels of grip and vehicle control in the wet and a 3D interlocking mechanism to maximise handling and mileage in the dry, and this is the tyre that offers you consistent function over its lifetime.
Feaures
Benefits
Hidden Grooves
Worn aquaplaning resistance
Dual-layer compound
Dry handling and mileage
Wet braking and handling
3D interlocking mechanism
New tyre handling performance
Pattern pitch sequence
Quiet ride