What is ADAS?
Almost all vehicle accidents are caused by human error, which can be avoided with Advanced Driver Assistance Systems (ADAS). The role of ADAS is to prevent deaths and injuries by reducing the number of car accidents and the serious impact of those that cannot be avoided. Now more cars are now equipped with Advance Driver Assist Systems (ADAS).
Essential safety critical ADAS applications include: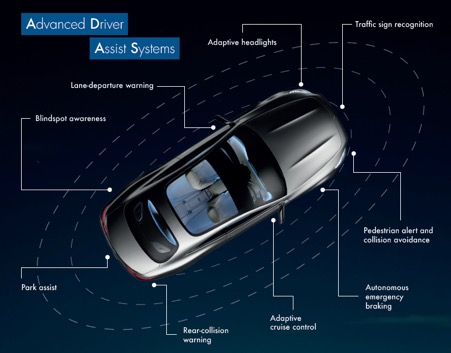 These lifesaving systems are key to ensuring the success of ADAS applications. To do their jobs, ADAS rely on inputs from a variety of sensors that allow the systems to "see" what is happening around the car. The most common are camera, radar, and ultrasonic sensors. Steering sensors are also used to help determine the direction of vehicle travel. Some systems use information from a single type of sensor, but others combine information from multiple sensors – a process called sensor fusion – to obtain a more accurate "view" of the situation.
Most ADAS sensors are very precisely aimed and require calibration if their positions are disturbed in any way. Consider that a sensor on the car that is out of alignment by a fraction of an inch or even one degree will be aimed at an area significantly off axis 50 or more feet down the road. Misaimed sensors often result from collisions – even a minor fender bender can knock ADAS sensors out of alignment. However, calibration can also be required as a by-product of common car service work such as windshield replacement, suspension repair or wheel alignment.
Failure to calibrate a sensor, when necessary, can result in faulty information that will cause ADAS to operate improperly or not at all. Faulty sensor input can cause:
A warning light or message on the instrument panel.
A diagnostic trouble code (DTC) being stored in the vehicle's computer memory.
Steering wheel vibration.
Vehicle steering pull.
Increased steering effort.
ADAS calibration is now available at our Woking branch. If you need your ADAS system calibrated, get in touch with us today.