Research into wet driving conditions calls for tyres to be changed at 3mm
Independent research performed by the Motor Industry Research Association (MIRA) has provided convincing new evidence that worn tyres significantly increase the chances of having an accident on wet roads by increasing the braking distance.
The test results showed that significant increases in braking distance began to appear when the tyre was worn down to 3mm. Although the legal minimum UK tread depth is only 1.6mm, this new research showed that tyres with a 3mm tread had a 25% better performance than those at 1.6mm in wet conditions. In terms of braking distance this represents an extra 8 metres (25ft). In one test, where a new tyre with a tread depth of 8mm was compared to one with only 1.6mm the braking distance increased by 13 metres (42.25ft) — the equivalent to double the length of a typical living room.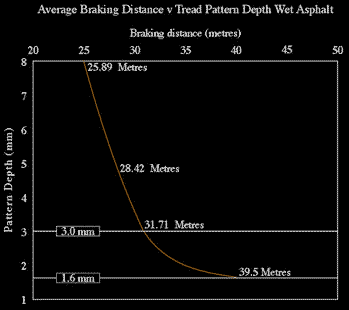 For further information visit your local branch and pick up the "Don't chance it. Check your tread" leaflet.