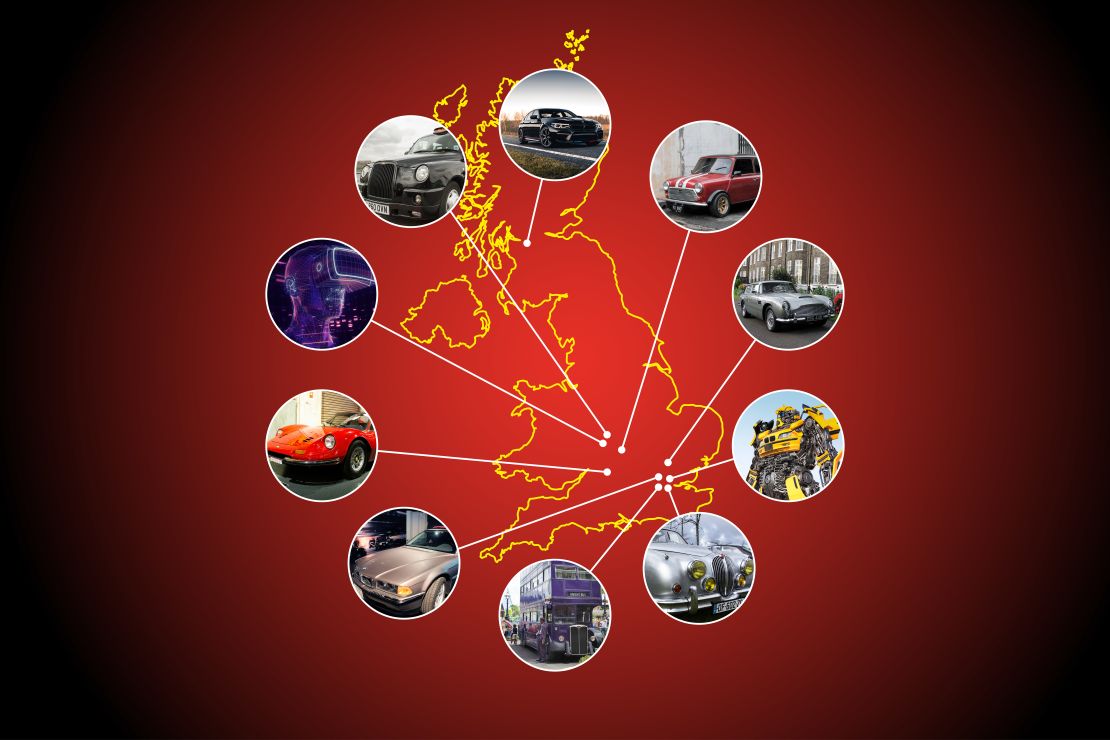 Film historians often cite the 1968, cinematic masterpiece Bullitt as the first modern car chase movie – it was in this film that screeching tyres and high paced car chases, so often associated with action films, were first made popular. Since Bullitt first graced the silver screen, we have been treated to some crazy car chase scenes such as those from Baby Driver and the entire Fast and Furious collection – you may be surprised to find that many of these iconic scenes have been filmed right here, in the UK.
10 Films with British Car Chases
1. Goldfinger (1964) – Buckinghamshire
When you watch Goldfinger nowadays and compare it to some of the more modern James Bond films, it may be slightly underwhelming. In the scene, Bond and Tilly Masterson are pursued by Goldfinger's henchmen which ends with Bond, completely unconscious, slumping out of his car as a henchman opens the drivers door. The woodland setting for this scene came from none other than Black Park, a 500-acre wood near Pinewood studios, famous for its use in films from Harry Potter, Star Wars and the Marvel Cinematic Universe. With the greatest weapon Bond's Aston Martin DB5 has in its arsenal being a fire exhaust, most would agree that this is not the top Bond car chase. In fact, film historians do not include the events in Goldfinger as part of the modern car chase canon. However, this iconic scene paved the way for the wild car chase scenes that have become a staple of James Bond films.
2. Robbery (1967) – Central London
Car chases are often the pinnacle of a film – they come right before the protagonist's final interaction with the opponent – however, Peter Yates' iconic car chase took place at the beginning of the film, setting quite a dramatic tone for the crime thriller to come. The scene opens in London where we follow a classic chase of cops and robbers. In a pre Bullitt era, this car chase may seem a little mundane, lacking in the explosions that are so often shoehorned into car chases today. However, the scene was enough for Steve McQueen to back director Peter Yates as the director for Bullitt – a film that would become the Grandfather of all car chases.
3. The Italian Job (1969) – Coventry
One, if not the, most iconic car chases in a generation is from 'The Italian Job'. The car chase, featuring three renowned red, white and blue mini coopers, is set in Turin which was where most of the filming occurred. However, some of the pursuit was filmed right here on England's green and pleasant lands. The chase through the sewer was filmed in the Sowe Valley Sewer Duplication system in Coventry. Although you cannot drive through the sewers themselves, there are many events that take place throughout the year around the East Midlands to commemorate such an important scene in cinematic history.
4. 11 Harrowhouse (1974) – Ragley Hall, Warwickshire
If you're looking for iconic car chases in vintage British cinema, the final 10 minutes of 11 Harrowhouse might be for you. The film follows a small-time diamond merchant who is blackmailed into pulling off a major diamond heist. The film culminates in a big car chase through the grounds of Ragley Hall, Warwickshire culminating with a getaway in a black Lotus Europa. Although this is certainly not the most iconic entry in the British Car Chase Canon, its definitely one of the most exciting with explosions, off roading and even an electrocution.
5. Tomorrow Never Dies (1997) - Brent Cross Shopping Centre
When asked about his iconic car scene in Tomorrow Never Dies, director Roger Spottiswoode said, "In every car chase the driver is stuck behind the wheel and that's all he can do. Because of this great Q device, Bond spends the entire chase in the back of the car". And it is this that makes the Tomorrow Never Dies car chase one of the best in James Bond history. Similar to its predecessor, Goldfinger, Bond's car has some clever additions including a remote-control option, allowing him to famously sit in the back, but this has a faster pace making it a more than worthy addition to our list.
6. Harry Potter and the Prisoner of Azkaban (2004) – London Suburbs
This may not be a car chase perse but for high speed, dangerous car scenes, how could we not mention Harry Potter and his trip on the Knight Bus. In this scene, we see Harry on a quintessential, double decker bus zip through the busy streets of London, squeezing between cars and slamming on the brakes to screech to a dramatic halt for an old lady to cross the road. Here we see Harry speeding through Green Lanes, in North London's Palmers Green before taking a corner, at particularly high speed, onto Park Avenue. The scene also features Lambeth Bridge as the bus squeezes between two other double deckers - you may recognise this bridge but from the Russian setting of Fast and Furious 6.
7. Fast and Furious 6 (2013) – Glasgow
The well-loved franchise, Fast and Furious, was made famous for its intense car races, set in countries across the world. At the beginning of the sixth film, the villain escapes the police and Fast and Furious team in a modified car, flipping and smashing every car in his way all whilst dodging bullets. Despite the scene dotting the classic red post boxes around to depict London, this scene was actually filmed in Broomielaw, Cadogan Street and Wellington Street in Glasgow, Scotland. In the film we also see a crash into a car showroom which was purpose built on a vacant corner of McAlpine Street.
8. Kingsman: The Golden Circle (2017) – Birmingham
With cars that drive sideways and intelligence who can change traffic lights at the switch of a button, it's no wonder the Kingsman films have been such a huge box office hit. This British based film opens with a high energy car chase in a modified, traditional black cab, that leaves viewers on the edge of their seats, waiting for more. The London Eye is clearly visible in the distance during scene, but Kingsman was actually filmed in the streets of Birmingham particularly Colmore Roe and the surrounding areas.
9. Ready Player One (2018) – Birmingham
It seems that in recent years, Birmingham has become a prime location for car chase scenes but in this film, it wasn't playing London. Ready Player One depicts a futuristic race across an obstacle course made to eliminate you - as the players head down the track, they encounter various obstacles that stop them from completing the race. The movie was filmed entirely in Birmingham and London - Speilberg and his team filmed in prime Birmingham locations such as the Jewellery Quarter and Digbeth. One city centre scene featured an artificial rainstorm that was carefully timed to coincide with trains rushing by as the cars sped down the road.
10. Transformers The Last Knight (2017) – Pall Mall
Whether you enjoy the Transformers films or not there is no denying that the car chases in this film are particularly riling. The film follows Bumblebee in hot pursuit of Barricade Bluray down Pall Mall. When a film scene is clearly set in the UK it often contains key features such as red post boxes, phone boxes and black cabs – this shoot had all this and the Queens driveway! We couldn't not mention a scene filmed in one of the most iconic locations in the UK in an article about iconic UK car chases! So, car chase fanatics needn't go to the streets of New York to see where their favourite scenes were filmed. Simply hop in your car, put your best tunes on and race (within the speed limit) through your favourite movie scenes.