Here at Merityre Specialists, we have been looking forward to the launch of Continental's new superior tyre. Unveiled late last month, the SportContact 6 is set to be a leading summer tyre offering high sports performance, maximum handling and maximum grip, without compromising on safety.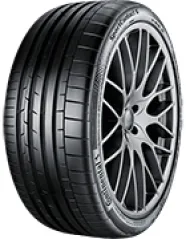 Due to its breathtaking safety performance, the Continental SportContact 6 has been given a brand new product category which Continental are naming 'Ultra Ultra High Performance'.
Designed to combine the focus of the Continental SportContact 5 and the performance of the ContiForceContact, the new SportContact 6 is a leading tyre which excels in all categories.
During the development process of this tyre, the SportContact 6 achieved technical tyre approval from leading car manufacturer Honda and has since been fit as the factory product for the all new Honda Civic Type R.
A new Micro Flexibility Compound ensures that there is optimum interlocking between tyre and road surface. This guarantees better acceleration and shorter braking distances in both wet and dry conditions. This innovative compound teamed with the outstanding Continental Black Chili tread design contributes to the outstanding braking capabilities of the SportContact 6.
The Continental SportContact 6 represents a new era in tread pattern development, displaying the most unique design yet. The improved inner and outer pattern ensures superior steering precision and cornering support, whilst the advanced Macro Block Design offers safety and control during manoeuvres. Furthermore, an innovative centre responsive rib design greatly supports overall stability.
Thanks to brand new Aralon350™ technology, vehicles can accelerate to high, motorway speeds safely. Aralon350™, the new hybrid cap ply, designed exclusively by Continental, offers strength and resilience and provides a controlled tyre growth for maximum high speed upto 350km per hour (217 mph). This results in a fast acceleration speeds without sacrificing your safety or stability.
The Continental SportContact 6 is already proving to be one of the greatest summer tyres currently on the market, which is unsurprising as Continental are a brand famous for their innovations within the tyre world.
Buy your new Continental SportContact 6 tyres online from Merityre Specialists and have them fitted at your local branch at a time to suit you. Alternatively, visit or phone your local Merityre Specialists now for further information regarding your new tyres. Take a look at the full range of Continental tyres stocked at Merityre Specialists here.