Continental takes top accolades in the Auto Express Product awards 2019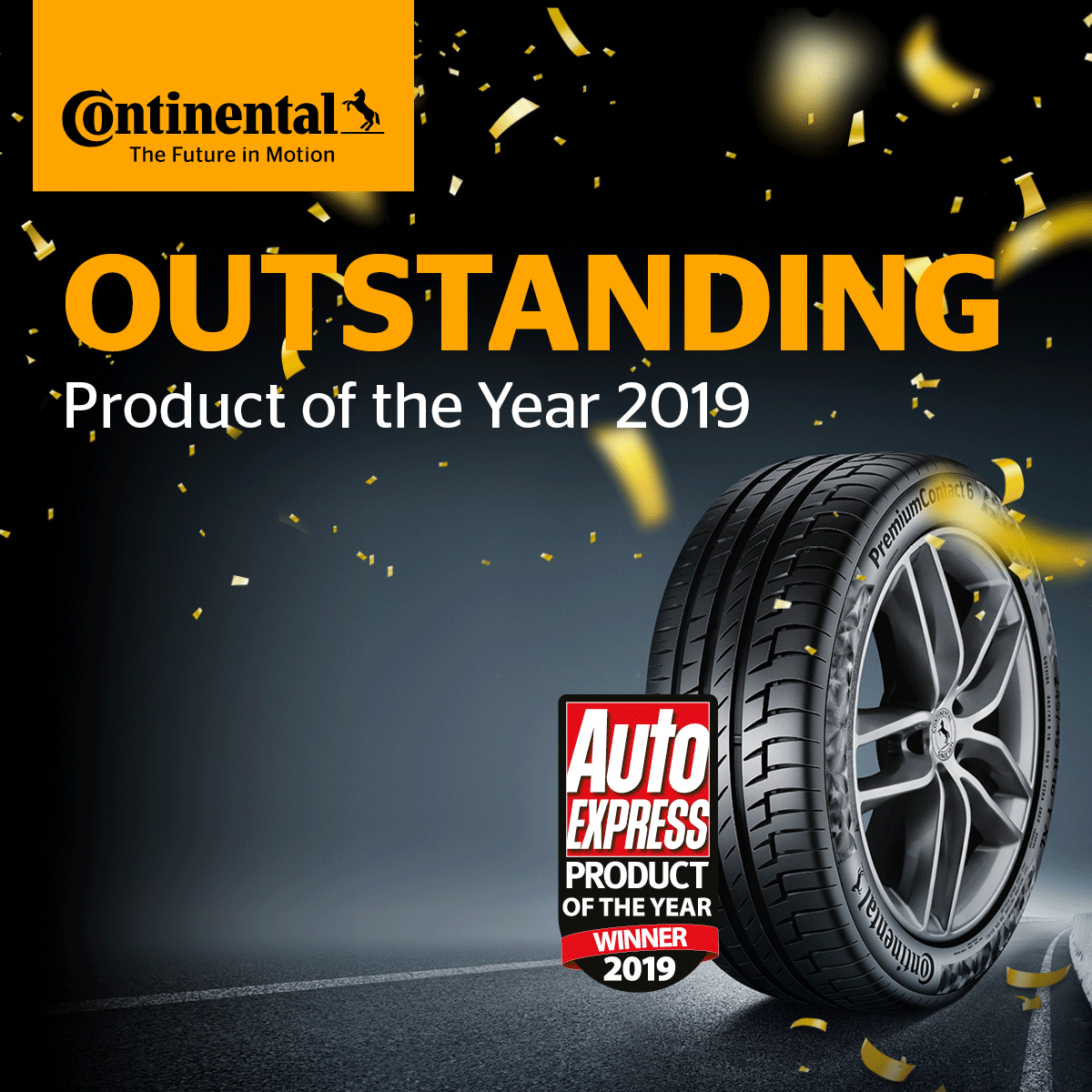 Overall product of the year awarded to Continental for exceptional products across all seasons
Continental has taken top honours in the Auto Express Product awards, claiming 'Product of the Year' alongside a hat trick for their summer, winter and all-season tyre ranges. The Continental PremiumContact 6, WinterContact TS 860 and AllSeasonContact took all tyre category wins, the first time a tyre manufacturer has won all three awards in a single year from the UK's No1 selling weekly car magazine, Auto Express.
Steve Fowler, editor-in-chief of Auto Express, said: "This is an unprecedented grand slam for Continental. Taking top honours in all three of our tyre tests this year deserved a special award, so we're delighted to present our Product of the Year trophy to the brand as a whole. It proves that, currently, if you want the best choice when choosing your tyres, you can't go wrong with Continental."
The Auto Express summer, winter and all-season tyre tests have been the benchmark for performance, celebrating the best of the best in the tyre market. The product awards highlight exceptional performance, quality, safety, desirability and value. They are seen within the motoring industry as a stamp of approval that offers motoring enthusiasts' confidence when looking for their next tyre purchase.
Looking at the summer range from Continental, the PremiumContact 6 took top spot for a second year running, excelling with its summer performance and safety credentials.
Auto Express said: "The PremiumContact 6 was the best tyre to drive in both wet and dry, there was a liveliness to its handling that no rival could match and few could get close to. The tyres' consistent performance across a range of testing led towards another fantastic win for Continental and the PremiumContact range."
For the third year in a row, Auto Express also recognised the WinterContact TS 860 as the market leading winter tyre in its field. These tyre test winning characteristics are made possible by combining a market-leading tread compound with a specially developed tread design. The Cool Chili compound has a high proportion of silica that reduces braking distances on wet roads due to its special damping characteristics.
On the winning winter performance Auto Express said; "A third victory on the trot for the Continental TS 860, which could almost be designed for British winters. It's rare that a tyre picks up a hat-trick of wins in our tests, but the TS 860 has done exactly that, yet again putting together a series of top results in all weathers."
Continental's AllSeasonContact made its UK debut in the all-season tyre tests in 2018, dominating tests using the combined elements of both Continental's premium summer and winter tyres to create the ideal tyre for all year round use. Continuing the superior grip found on all Continental tyres, the AllSeasonContact features similar technology to that found in the equally award winning WinterContact TS 860, providing strong grip on snow-covered roads.
Tracey Mortimer, Continental Tyres UK Marketing Director said: "We are thrilled to have once again been recognised by Auto Express. Taking the overall Product of the Year award is a huge accolade for our brand, which has a rich heritage in promoting road safety aligned to our VisionZero initiative, for a World with Zero injuries, zero fatalities and zero crashes. Winning summer, winter and all-season tyre awards with our PremiumContact, WinterContact and AllSeasonContact highlight our commitment to providing the safest choice no matter the weather conditions or season."
For more information on Continental's complete range, visit www.continental-tyres.co.uk and for the full product tests on Auto Express, visit www.autoexpress.co.uk