A little over ten years ago, SUVs were a minor automotive sideshow. The sector accounted for roughly 12% of annual car sales. Initially, the majority of motorists weren't particularly interested in sports utility vehicles, but this was soon to change. Today, the SUV market is responsible for about a third of the overall global market. Almost 30 million of these vehicles were sold in 2018 – far and away more than any other category of car.
These large, all-wheel-driven 5 and 7 seater vehicles sit high on the road and are highly regarded for their comfort, space and safety characteristics. What's more, SUVs are proven to be particularly popular with women buyers – an increasingly important segment, with female car ownership up more than 20% in the UK over the last decade.
Can the rise of the SUV continue?
Whether or not SUV uptake is sustainable is debatable. These vehicles are often expensive to initially buy and costlier to maintain than smaller, simpler vehicles in the long term. SUVs also require greater resources and more energy to make in the first place. Furthermore, given the direction motoring is heading in, SUVs don't make for an ideal platform when it comes to electrification, something all the major automotive manufacturers – as well as governments – have an eye on at the moment.
So why are so many of these big cars sold? The truth is that the vast majority of people simply don't actually need a vehicle of this size. Many consumers are swayed by the perceived status symbol of the SUV. These vehicles – once dubbed by environmentalists as 'Chelsea Tractors' – are for the most part engineered to be robust and effective off-road driving machines, though it is widely accepted that most are rarely – if ever – used this way.
SUVs fitted with Continental tyres
Over the last decade, to meet the ever increasing surge in SUV popularity, Continental has developed an unrivalled range of specialist premium tyres for SUVs. Their SUV tyres are engineered to be comfortable and capable, without compromising on grip in all driving conditions. These tyres are also manufactured with improved rolling resistance, ensuring noticeably better fuel efficiency. Unsurprisingly, demand for Continental's tyres has grown alongside the takeup of SUVs, so much so that many of these vehicles leave the factory fitted with Continental original equipment (OE).
People new to owning an SUV are often caught out when it comes to buying replacement tyres for their vehicle. Like the cars themselves, SUV tyres are larger and wider, and are therefore more expensive than the tyres you'd find on a lighter, smaller car. Continental's tyres are produced to complement the vehicle they are fitted to, developed in partnership with automotive manufacturers, providing an optimum level of safety and performance. If you already have Continental OE fitted, a like-for-like change is highly recommended.
This is especially crucial with SUVs, as heavier and more robust cars are much more demanding on their tyres, and only function at their best with the right ones fitted. Continental's latest tyre for SUVs is their superb CrossContact™ ATR, which allows drivers to own the road – no matter what the terrain.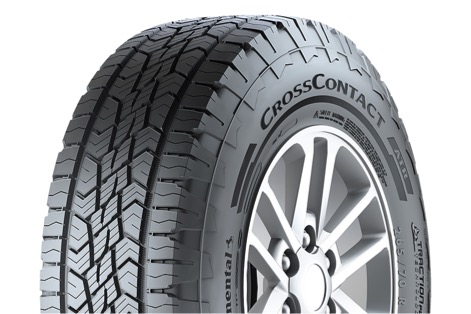 Will SUVs evolve into the automotive future?
Many car manufacturers believe that SUV sales will continue to increase long into the 2020s, despite increasingly stricter emissions testing and the pursuit of greener transport solutions across the world. We're also beginning to see more high-performance SUVs being produced by automotive marques usually associated with supercars, further adding to the demands placed on tyres. Furthermore, while zero-emission electric SUVs (that need to carry heavy batteries on board) are presenting new challenges to tyre engineers, the team at Continental are confident that their leading research and development will ultimately lead to the creation of next generation electric vehicle SUV tyres.
For now, it seems like SUVs are here to stay, and increase their position as the world's most popular vehicle category. Whether or not that's good thing for the world and it's environmental concerns is open to question. As it stands, it looks like many of the car buying public prefer to opt for the perceived status and prestige of SUVs over more ecologically-friendly, smaller cars on the market. Whether or not this is sutainable remains to be seen.